CPM is cost per thousand impressions. All of the data below is taken from a real YouTube channel – CuteStockFootage.com. Keep in mind that CPM's vary per YouTube channel – content, categories, user value, how much time user spends watching the video and the level of engagement and many more metrics.
Data can be used to compare the average YouTube Video CPM Rates for 2020. CTR and viewability of the ad greatly affects how much can be earned for each impression of the ad. The higher they are the higher the return.
If you wish to check last years' YouTube Video CPM Rates from the same channel check out this article: YouTube Video CPM Rates 2019.
Did you know?
The ads on YouTube sell on an auction basis. The highest bidder wins the ad position and displays their advertisement. It is the same way Header Bidding works. That is why there are certain periods and seasons when the CPM is the highest. For example autumn and winter – cChristmas, halloween, black Friday, cyber Monday and new years. In this period advertisers are willing to pay a lot to show their product and get more sales.
How Much Commission Google Keeps?
We know that YouTube keeps its advertising income a secret but it is commonly know that Google keeps 45% of the YouTube ad generated revenue. Which is more than what Google keeps in AdSense ads which is 68%.
AdSense is used for websites with small to medium amount of traffic, if you were to go to the next step we recommend you check out top AdSense alternatives – usually more advanced ad monetization platforms that work and optimize ads with advanced header bidding setup.
YouTube Video and Channel Money Calculator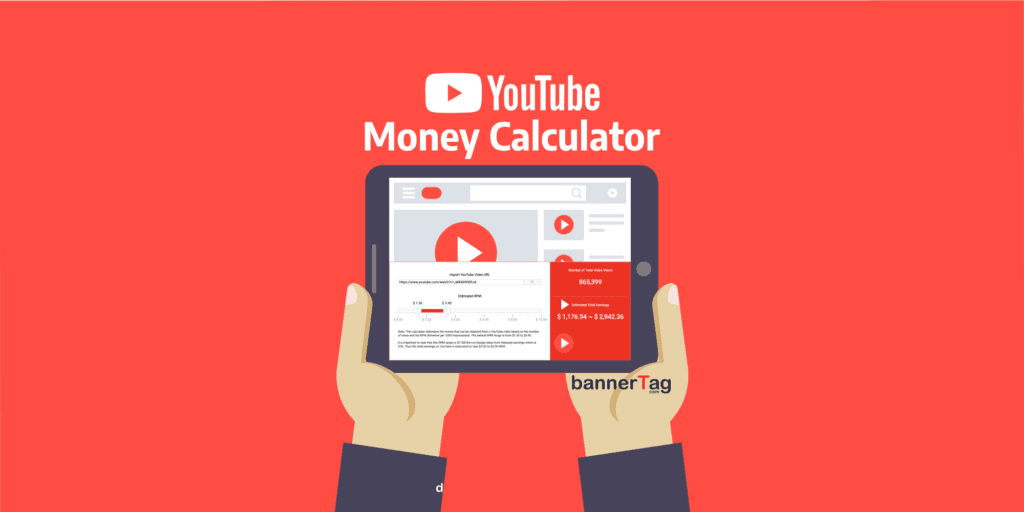 Try Our Free YouTube Revenue Tool!
Check out how much each video and channel is earning based on views and CPM. Click on the image or this link and have fun.
YouTube Video CPM Rates 2020 Table per Countries
Wish to see data from previous year? Check YouTube Video CPM Rates 2019
| | | | |
| --- | --- | --- | --- |
| Geography | CPM (USD) | Views | Watch time (hours) |
| India | 0.7 | 13960985 | 28017 |
| Indonesia | 0.2 | 3923993 | 7610 |
| Thailand | 0.27 | 1184465 | 2377 |
| Brazil | 0.32 | 663149 | 1351 |
| United States of America | 0.38 | 648763 | 1352 |
| Turkey | 3.08 | 580988 | 1272 |
| Viet Nam | 0.25 | 560255 | 1135 |
| Saudi Arabia | 0.33 | 453852 | 950 |
| Philippines | 0.48 | 297437 | 582 |
| Italy | 0.89 | 243070 | 520 |
| Russian Federation | 1.45 | 196225 | 391 |
| Malaysia | 1.4 | 190061 | 367 |
| Mexico | 0.56 | 185506 | 392 |
| Bangladesh | 0.7 | 182076 | 384 |
| Iraq | 0.71 | 162529 | 318 |
| Egypt | 0.29 | 158821 | 316 |
| Morocco | 0.34 | 156090 | 315 |
| Pakistan | 0.59 | 154697 | 306 |
| Korea (the Republic of Korea) | 0.3 | 143035 | 280 |
| Japan | 2.46 | 141638 | 261 |
| France | 4.51 | 120859 | 228 |
| Nepal | 2.14 | 115739 | 222 |
| Germany | 0.36 | 112025 | 225 |
| United Kingdom of Great Britain and Northern Ireland | 2.67 | 109306 | 230 |
| Spain | 4.38 | 107667 | 228 |
| Algeria | 2.57 | 99012 | 187 |
| Argentina | 0.77 | 94415 | 190 |
| Cambodia | 0.52 | 92678 | 201 |
| United Arab Emirates | 1.37 | 89219 | 185 |
| Colombia | 0.87 | 76564 | 151 |
| Taiwan | 0.59 | 75677 | 146 |
| Canada | 2.63 | 68940 | 126 |
| Sri Lanka | 4.06 | 67699 | 188 |
| Azerbaijan | 0.59 | 67110 | 134 |
| Ukraine | 1.27 | 60650 | 126 |
| Peru | 1.24 | 54793 | 105 |
| Kuwait | 1.12 | 53989 | 107 |
| Chile | 0.54 | 46945 | 92 |
| Senegal | 0.8 | 46703 | 97 |
| Poland | 0.76 | 45232 | 97 |
| Romania | 1.85 | 44891 | 92 |
| Myanmar | 1.22 | 44718 | 94 |
| Kazakhstan | 1.77 | 43335 | 86 |
| Australia | 1.66 | 43315 | 86 |
| Greece | 6.23 | 42643 | 93 |
| Lebanon | 1.7 | 42235 | 86 |
| Israel | 0.58 | 41544 | 83 |
| Hong Kong | 1.94 | 41100 | 80 |
| Singapore | 2.9 | 41038 | 84 |
| Netherlands | 2 | 35383 | 74 |
| Oman | 3.78 | 32841 | 66 |
| Uzbekistan | 0.94 | 32025 | 62 |
| Ecuador | 1.53 | 31806 | 64 |
| Tunisia | 1 | 30874 | 59 |
| Albania | 0.74 | 28526 | 57 |
| Portugal | 1.66 | 28501 | 57 |
| Kenya | 3.02 | 26977 | 52 |
| Somalia | 1.24 | 26256 | 57 |
| Jordan | 1.5 | 25973 | 53 |
| Bolivia | 0.73 | 24412 | 48 |
| Sweden | 0.84 | 23086 | 44 |
| Armenia | 3.91 | 22216 | 47 |
| Qatar | 1.11 | 19936 | 41 |
| Syrian Arab Republic | 1.32 | 19664 | 39 |
| Serbia | | 19554 | 40 |
| Dominican Republic | 2.67 | 18788 | 38 |
| South Africa | 2.37 | 18440 | 37 |
| Belgium | 3.43 | 18358 | 39 |
| Lao People's Democratic Republic | 5.09 | 18207 | 36 |
| Yemen | 1.11 | 17892 | 37 |
| Hungary | 0.9 | 17811 | 36 |
| Georgia | 3.46 | 17394 | 37 |
| Switzerland | 3.87 | 15650 | 32 |
| Libya | 4.69 | 14431 | 28 |
| Guatemala | 1.14 | 14258 | 29 |
| Nigeria | 2.89 | 13644 | 26 |
| Belarus | 3.31 | 12960 | 27 |
| El Salvador | 3.03 | 12653 | 26 |
| Costa Rica | 2.62 | 12525 | 26 |
| Croatia | 1.85 | 12495 | 26 |
| Palestine | 2.5 | 12034 | 25 |
| Kyrgyzstan | 1.23 | 11918 | 23 |
| Bulgaria | 1.1 | 11855 | 23 |
| Côte d'Ivoire | 2.24 | 11740 | 24 |
| Tanzania | 1.96 | 11539 | 23 |
| Norway | 1.95 | 11011 | 24 |
| Austria | 6.71 | 10322 | 21 |
| Mauritius | 7.05 | 10102 | 21 |
| Bosnia and Herzegovina | 1.25 | 9971 | 20 |
| Sudan | 2.82 | 9791 | 20 |
| Bahrain | 0.35 | 9778 | 20 |
| Macedonia | 1.27 | 9694 | 19 |
| Czechia | 2.95 | 9560 | 19 |
| Honduras | 3.32 | 9329 | 20 |
| Uruguay | 3.17 | 9312 | 18 |
| Ethiopia | 1.01 | 9291 | 19 |
| Panama | 1.73 | 8903 | 18 |
| Paraguay | 2.48 | 8421 | 16 |
| Puerto Rico | 1.15 | 8373 | 18 |
| Ghana | 1.91 | 7853 | 17 |
| Denmark | 2.88 | 7811 | 16 |
| New Zealand | 11.81 | 7709 | 16 |
| Mali | 8.41 | 7414 | 15 |
| Venezuela | 3.75 | 6775 | 13 |
| Ireland | 0.52 | 6760 | 16 |
| Lithuania | 6.1 | 6657 | 17 |
| Cyprus | 3.16 | 6396 | 18 |
| Finland | 2.57 | 6067 | 12 |
| Mongolia | 5.85 | 5377 | 12 |
| Moldova | 3.8 | 5325 | 9 |
| Afghanistan | 3.11 | 4854 | 10 |
| Slovakia | 0.67 | 4716 | 9 |
| Trinidad and Tobago | 2.39 | 4617 | 11 |
| Cameroon | 1.78 | 4194 | 8 |
| Nicaragua | 1.92 | 4119 | 8 |
| Uganda | 2.22 | 3899 | 7 |
| Latvia | 2.82 | 3552 | 8 |
| Jamaica | 4.94 | 3322 | 7 |
| Maldives | 2.01 | 3276 | 9 |
| Brunei Darussalam | 0.8 | 2794 | 6 |
| Congo (the Democratic Republic of the Congo) | 0.4 | 2628 | 5 |
| Mauritania | 3.8 | 2372 | 4 |
| Western Sahara | 0.35 | 2249 | 5 |
| Réunion | 0.35 | 2063 | 4 |
| Tajikistan | 1.67 | 2031 | 4 |
| Burkina Faso | 1 | 1992 | 4 |
| Macao | 1.25 | 1950 | 4 |
| Mozambique | 6.78 | 1914 | 4 |
| Haiti | 3 | 1834 | 4 |
| Gambia | 2.14 | 1829 | 3 |
| Zambia | 13 | 1770 | 4 |
| Guadeloupe | 2 | 1666 | 3 |
| Togo | 1.87 | 1621 | 3 |
| Slovenia | 1 | 1621 | 3 |
| Malta | 5.34 | 1570 | 3 |
| Bhutan | 6.3 | 1542 | 3 |
| Gabon | 0.35 | 1530 | 3 |
| Timor-Leste | 0.67 | 1505 | 3 |
| Angola | 0 | 1480 | 3 |
| Martinique | 0 | 1413 | 3 |
| Rwanda | 1.09 | 1401 | 3 |
| Madagascar | 0.5 | 1301 | 3 |
| Djibouti | 1 | 1298 | 2 |
| Namibia | 2 | 1281 | 3 |
| Iran | 5.67 | 1123 | 2 |
| Montenegro | 0.35 | 1083 | 2 |
| Niger | 6 | 1052 | 2 |
| Estonia | 0.35 | 1037 | 2 |
| Suriname | 7.03 | 1023 | 2 |
| Guinea | 1 | 906 | 2 |
| Benin | 0.35 | 816 | 2 |
| Fiji | 1 | 766 | 2 |
| Chad | 0 | 732 | 2 |
| Bahamas | 0.35 | 725 | 1 |
| Cuba | 1.4 | 665 | 1 |
| Luxembourg | 0.35 | 639 | 1 |
| Guyana | 4.5 | 632 | 1 |
| Saint Vincent and the Grenadines | 1.33 | 620 | 1 |
| French Polynesia | 0.35 | 614 | 1 |
| Zimbabwe | 3 | 590 | 1 |
| Guam | 2.38 | 557 | 1 |
| Iceland | 4.33 | 549 | 1 |
| Papua New Guinea | 2.27 | 527 | 1 |
| Botswana | 8.87 | 488 | 1 |
| French Guiana | 0 | 455 | 2 |
| New Caledonia | 1.33 | 416 | 1 |
| Virgin Islands (U.S.) | 3.29 | 329 | 1 |
| Belize | 3 | 321 | 1 |
| Cayman Islands | 1 | 289 | 1 |
| Curaçao | 0.35 | 283 | 1 |
| Barbados | 2 | 272 | 0 |
| Burundi | 2 | 257 | 0 |
| Congo | 0.35 | 255 | 0 |
| Sierra Leone | 3.5 | 250 | 0 |
| Mayotte | 3 | 226 | 0 |
| China | 1 | 221 | 0 |
| Grenada | 4.25 | 215 | 0 |
| Aruba | 0 | 197 | 0 |
| Cabo Verde | 1.5 | 195 | 0 |
| Samoa | 0 | 191 | 0 |
| Malawi | 0.35 | 162 | 0 |
| Turkmenistan | 1 | 155 | 0 |
| Saint Lucia | 0.35 | 148 | 0 |
| Eswatini | 0.45 | 143 | 0 |
| Faroe Islands | 0.35 | 74 | 0 |
| Comoros | 3 | 71 | 0 |
| Dominica | 0.45 | 71 | 0 |
| South Sudan | 2 | 67 | 0 |
| Solomon Islands | 0.35 | 65 | 0 |
| Northern Mariana Islands | 0.45 | 64 | 0 |
| American Samoa | 0.35 | 61 | 0 |
| Liberia | 2 | 54 | 0 |
| Central African Republic | 1 | 51 | 0 |
| Antigua and Barbuda | 0.45 | 41 | 0 |
| Seychelles | 1.75 | 40 | 0 |
| Gibraltar | 0.35 | 32 | 0 |
| Virgin Islands (British) | 1 | 32 | 0 |
| Turks and Caicos Islands | 0.45 | 29 | 0 |
| Vanuatu | 0.35 | 28 | 0 |
| Guinea-Bissau | 2 | 28 | 0 |
| Lesotho | 0.35 | 24 | 0 |
| Saint Kitts and Nevis | 0.45 | 22 | 0 |
| Equatorial Guinea | 0.35 | 19 | 0 |
| Jersey | 2 | 17 | 0 |
| Andorra | 0.35 | 15 | 0 |
| San Marino | 1.5 | 15 | 0 |
| Isle of Man | 0.35 | 14 | 0 |
| Sint Maarten (Dutch part) | 0.5 | 14 | 0 |
| Saint Pierre and Miquelon | 1.67 | 11 | 0 |
| Svalbard and Jan Mayen | 0.35 | 10 | 0 |
| Åland Islands | 0.35 | 10 | 0 |
| Liechtenstein | 1 | 0 | 0 |