How much CPM does it cost to Launch a LinkedIn Ads?
According to LinkedIn Business, what it will cost you to launch an CPM ad on the LinkedIn platform depends entirely on your company. Interested advertisers can choose an amount they wish to spend depending on their budget and they also have the power to either pause or stop the ads at anytime.
Prospective advertisers should note that once the ad is launched, you are indirectly competing with other advertisers in the field, so therefore you need to make the ad count and spend LinkedIn CPM wisely. When we say making your ad count we mean getting your audience right, choosing the right CPM bid as per the size of the proposed audience, using the right picture quality, and evaluating the relevance of your ad campaign.
As an advertiser friendly platform, we have listed some important factors you need to consider while LinkedIn CPM ad campaign.
Social Media Advertising Costs Comparison Table
| | |
| --- | --- |
| Social Media Platform | Average Advertising Cost (CPM) |
| LinkedIn | $6.60 per 1000 impressions |
| Instagram | $7.90 per 1000 impressions |
| Facebook | $7.20 per 1000 impressions |
| YouTube | $9.70 per 1000 impressions |
| Twitter | $6.50 per 1000 impressions |
| Pinterest | $31 per 1000 impressions |
Twitter Advertising Costs Averages
| | |
| --- | --- |
| Twitter Expenses | Twitter Average Cost |
| Monthly Ad Spend | $200 to $1500 per month |
| Monthly Campaign Management | $1000 to $2500 per month |
| Minimum Budget | No minimum |
| Bid Type | |
| CPC | $0.40 per click |
| CPM | $6.50 per 1000 impressions |
| CPE | $1.40 per engagement |
| CPF | $3.00 to $4.50 per follower |
Ad Targeting and LinkedIn CPM
You will need to consider this factor while planning your LinkedIn CPM ad campaign you are set to launch on the LinkedIn ad platform. You have to bear in mind that you are setting your business right in front over 500 million people, so in this case you have to target your audience right (don't waste money).
By using LinkedIn targeting options there are columns and sub column needed to be filled, such columns includes the following:
Location: This is the section that allows you reach out to those targeted audience anywhere in the world. The locations of this audience are taken from their geographical location they indicated on their profile page. Having this knowledge this, you will now be in a position to know where to channel your ads, depending on their targeted market. For example, USA, Canada, United Kingdom, Germany will have the highest LinkedIn CPM rates.
Company Connections: This section allows advertisers to get to the first degree connection of the targeted employees at one of the companies you selected while on the ad section. But you have to note that can only be possible for companies that have more than 500 staff.
Company Industry: This section stipulates the industry where those employees mentioned in the "company connection" section is employed. An example of the company industry includes finance, Auto mobiles, Telecommunications, e.t.c.
Company Size: This section allows the advertisers to reach to those members by assessing the size of the organisation they work. Also note that the company size is calculated using the number of staffs stipulated on the company's LinkedIn paged.
The Company Name: This section doesn't only contain popular companies just like in the other social media ads. Rather it covers those companies round the neighbourhood.
Company Followers: It allows the advertiser target particular LinkedIn page followers. If you need your ad camping to be really centered then consider using company followers' feature.
Demographics
At this point you have to specify who needs to see your ads. This will very much influence the price for LinkedIn CPM. In this category, you see section like:
Member Age: This is where you specify the age of the people you wish to see your ad if you are advertising a product meant for kids, or ones meant for adults, this is where you clarify. But do not make the mistake of selecting younger age range for a product meant for adults that will result to an "ad flop".
Education. While getting ready to launch your campaign, you most have to consider the level of people that the product needs to get to i.e. you cannot advertise a marketing software and went ahead to select a mechanic as your target. Below are some sub areas you need to note whole creating your ad campaign:

Field of Study: This has to do with particular professionals you need to target on your ad.
Member Schools: In here you will have to specify the particular school, college, or university, in fact any institution of learning at all you wish your ad to target.
Degrees: This section is where you choose the particular people you wish your ad will get to. Even if you are advertising a product for engineers, you have to specify the level of engineering professionals, you wish to target.
Job Experience
This is where you specify the level of experience of those proposed audience should process. Under this category there are still sub categories that comes with it, they include: job function, job seniority, job title, member skill, and years of experience. It can be that the higher the experience the higher LinkedIn CPM you will have to pay.
Interests
This is one of the important parts of the ad, you have choose those likely interest of audience you wish to target. This section has a sub-section attached to it, they include: member Groups, and member interest.
Your LinkedIn CPM Bid
Before you can be able to launch a successful LinkedIn ad, must first set your budget, schedule and bid. Setting your bid using the campaign manger tool gives you total control over your proposed ad. Before it can be launched, you must be made the Campaign Manager or Account Manager on Ad Account in order to proceed with your ad campaign. There are also sub categories under the bidding section, they include:
Set a Budget: This is where you add the amount of money you wish to spend on the LinkedIn CPM ad. To do that go to "Budget and schedule" section of the ad campaign. Under the "Budget", click and select the "set a daily budget "or you can still go for "set both a daily and total budget".
Set a Schedule: This is where you set your campaign schedule, as in when you would want it to lunch. To do this go to "Budget and schedule" where you must have set up your new campaign. Next step under "Schedule" click on "Run Campaign continuously" then at the start- date, and the date you wish it to end.
Set a LinkedIn CPM Bid: This is actually the last stage of this process. To set your bid first go to "Budget and Schedule" part of your ad campaign, under "Bid Type" click on "Automated Bid". Next click and select the bid you wish to "Maximize for" when you end up activating an automated bidding. The last part is to click on "Save and Next" to transfer you to the ad set up section and click "lunch campaign".
Ad Relevance Score
The LinkedIn ad auction section has a way of rewarding those ads that are relevant, and engaging. What qualifies your ad from receiving relevant score are mostly like, shares, click-though rates, and comment; the relevant your ads term to be, the lower you are charged.
Relevant ways to control your ad spending
Your Total Budget: If you wish your ad campaign to get delivered factor than others using a specific budget, we advise you set only the total budget.
Your Daily Budget: If you prefer those ads that are always there, as in they are ON at all times then we suggest you set only the daily budget.
Setting Your LinkedIn CPM Bids: Endeavor to set your maximum amount you can afford to pay. Do not make the mistake of inputting how much you cannot afford to pay (in other words be careful).
How Affordable is the LinkedIn CPM Ads
Just like every other contextual ads, the LinkedIn ad prices solely depends on your targeted audience as well as the competition. Over the years we have experienced a situation where the Cost Per Clicks (CPC) starts at $2, $4, even sometimes go as high as $4 per click. The LinkedIn ads as far as we are concern has one of the best Click Through Rates (CTR) which starts at 0.025% but your ads can perform even better with laser targeted adverts that features compelling of appealing, vibrant pictures.
LinkedIn Median CPM Rates
To understand the true medium CPM we will look at two sources. According to AdStage calculations, median CPM ended on a high note, jumping 82 cents from last quarter, but is down 46 cents from Q4 last year.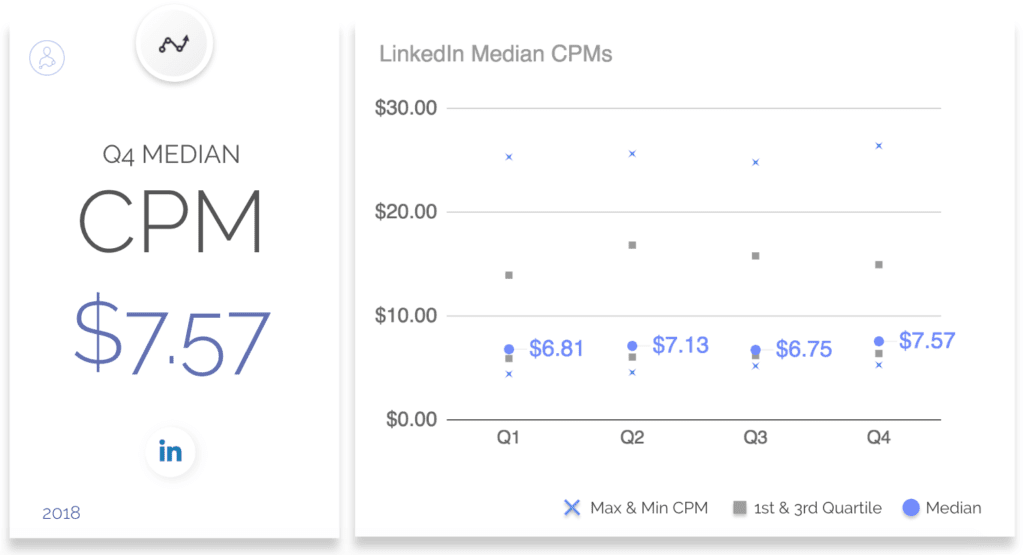 According to Falco.io the average LinkedIn CPM is $7.57.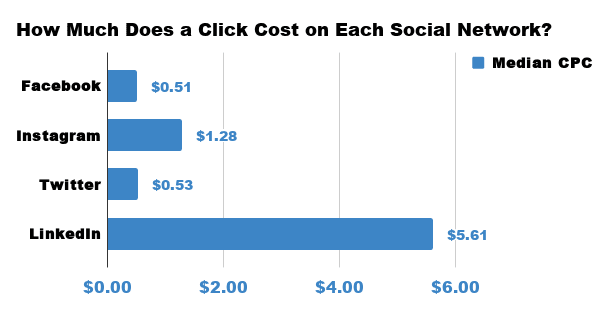 Based on these results the average us is about $6.50. Keep in mind that it very much depends on the user and how much worth it has. The higher quality the potential customer/employee is the more you will have to pay.
To be on the safe side, we advise you try staying between 0.08% and 0.1% when it comes to CTR. Generally, this means you will be getting as close as having 1000 impressions in just one click. Once awhile try and switch up the ads, try doing so at least once every month. Doing this has a way of boosting impressions; this scores a much higher CTR than those previous ads you hosted. Please you still have to note that it is not healthy to run more than two ads at once.
CPM vs CPC: What You Have To Know Before Bidding For LinkedIn CPM
While bidding for LinkedIn CPM bear in mind that you are definitely coming out in front of over 500 million people to talk about your business. Just imagine standing in front of over 500 million people telling them about your business, that's how it works.
Most of the times people tends to compare the CPM with CPC, in as much as CPC gives you a practical result. As in, letting you know that someone actually clicked your ad. If you are under traffic dysfunction, we advice you go for CPM is much cheaper than CPC.
Reasons Why You Need To Stick To Linkedin Ads
Bbelow we have list some good reasons why you need to go for LinkedIn CPM Ad. The reasons are stated thus:
Networking: Are you a serious business man or woman then you won't be doing your self a favour if you ignore the networking power of LinkedIn. Remember LinkedIn is made of over 5 million business men and women. If you wish get that acquaintance in same business niche that you have to leverage the power of LinkedIn CPM ads. All you need is to choose the right audience.
Target the Right People: Do you have a brand you need to push out in the lime light? Then LinkedIn Ads is the right place to do so. Though there order Ad platforms that can still perform the same action. But the question is do you prefer to buy your Apple phone from the Apple store or form an open market? Or who wish to search for Oranges on a mango tree. So that is it, with the LinkedIn CPM you can actually target that cooperate class of people. Instead of going to the conventional social media Ad company where you are not really sure whether the category they presented contain the right audience.
Meet Actual CEOs': Do you have a CEO product to sell? Yes! CEOs still need some products to buy. Most of the time industry professionals might have product. Like book that contain a specific lecture, or a high rated industry software, e.t.c. Since it has become obvious that LinkedIn has the largest number of CEOs at one place. With the LinkedIn CPM in your possession. You will be very much sure the real CEOs will sure be seeing your ad.
How to Capture Leads in your Ad Campaign
By now we assume your ad has been launched; now this is the time you need to convert these impressions to sales. There are two proven ways we believe you can capture leads from your ad campaign and advice you simultaneously use them.
The first one is actually familiar: using the landing page. While on the ad campaign try to give something away, something free. Something you think will be relevant to your audience, it could be an eBook, audio lecture, e.t.c.
The second one is by making use if (Lead Generation Form) also known as "Lead Gen Form". By use of this, you are giving your audience options or opportunity to relate your ads should they find it interesting. By using this method, interested audience can actually respond using the auto-populated fields. On a second thought, this method can actually be a game changer for you if you using it for the first time.
Tracking your Ad on LinkedIn Ad Section
LinkedIn presents advertisers with some tracking tools to monitor the progress of their ad; those tools are meant to measure Analytics, Data, and ROI. One of the popular tracking use in tracking LinkedIn ads is the Convention Tracking. It enables you set a particular conversation you are looking up that people will complete overtime.
When we say "an action to be completed" it could be a purchase, an E-mail registration or a sign up. With this in place you find a way to integrate it into LinkedIn ads using a simple JavaScript coding section that is usually embedded on sites.
Another way of tracking your LinkedIn ads is by using the Google Analytics tool, especially on the landing page. By using the analytics, you will be able to check the time spent on the site, bounce rate, page views, number of visitors and how long those visitors from your LinkedIn ad spent on your site.
Who Sees The LinkedIn Ads?
Since the linked in platform is meant for particular set of people; business professionals, you have to know the kind of ad you are launching on the platform. The best product you can launch on this platform is most company/industry products with high margins.
It will be much more effective if you make your ad concentrated; taking your goods where it is needed. For the fact that the LinkedIn audience expects a particular ad, we advice you also follow the trend by designing your ad to fit the LinkedIn ad type.
We suggest that you try as many mediums as possible to try and test out which ad platform works best for your product. Try to mix and possibly use a bunch of them at the same time.