The Twitter Ad has been around for a while now and offer different types of ad placement that range from CPM to CPC measurements. This ad platform doesn't maintain a steady CPM rate as it changes with time (depending on season, month, day, week, etc.). This year (2019), Twitter ha also s announced its new as rate for Q2.
The company earlier this year had published earnings that exceeded the estimate of most analysis, they have boosted their share price by 8.9%. Not just that, the company (Twitter) also increased their revenue by 18% year-on-year from the ad domestic growth according to some calculations from Adstage on the Q2 of 2019. This leads to think that more marketers may have to take advantage of twitter CPM for their marketing (Advertising) purposes as twitter is growing its revenues.
As it stands, AdStage has estimated that the Twitter CPM Ad impressions receives over 96 million impressions out 1.6 million click from the ads. This year (2019), Twitter ad rate was reported to stand as (medium):
The Twitter CPM rate has been measured at $6.46, not until its latest increase that stands at about $7. The CPM has also been said to have risen by 17% since the Q1 of 2019.
Twitter advertising median cost-per-mille (CPM) worldwide from 1st quarter 2017 to 1st quarter 2018 (in U.S. dollars)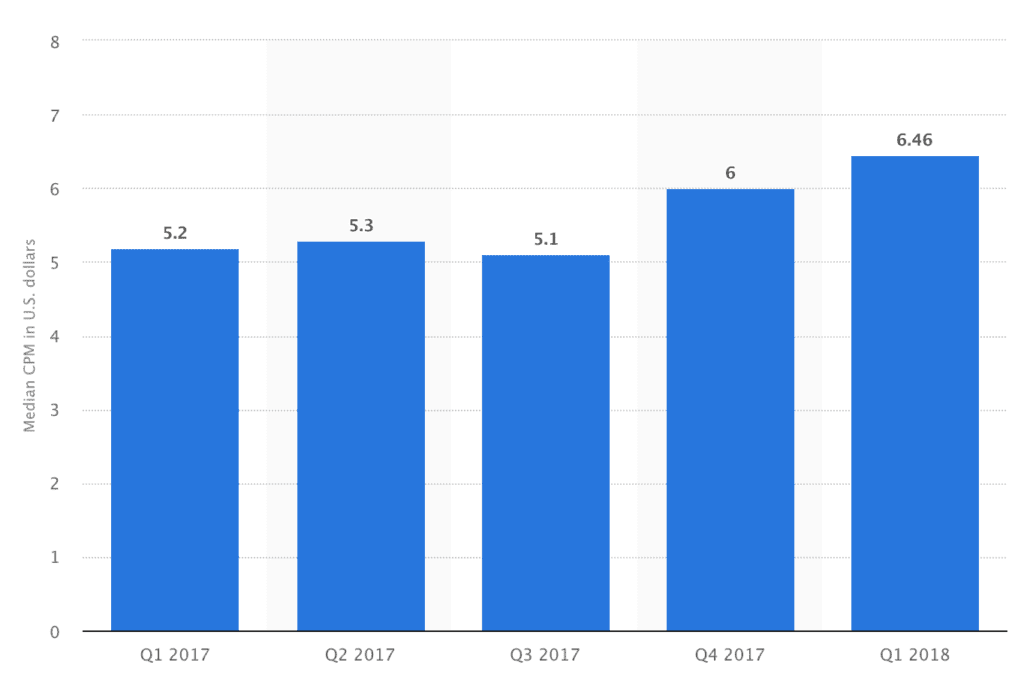 The Twitter Ad Trends As Q2 Of 2019
Twitter makes more money from its advertising section than its social network section. But over the years, it has been discovered that the platform experienced drop in website/app visits for more than a year ago. A situation that made them launch an experimental research on their ad section. At the end of the research it was discovered that the decline in the traffic was as a result of not enough ads. Though twitter has declined to reveal the details of their experiment, as in, how many people the experiment affected as well as what it meant for the future Ad industry.
New Limits On Twitter CPM by Twitter Company
Twitter has cut down the number of accounts a user can actually follow per day. Before now twitter users were allowed to follow as much as 1000 accounts in a day, but today that number has been decreased to 400 per day. Which can make companies to consider spending more revenue on ads to gain high quality following. Therefore creating more demand for ads resulting in the increase of the advertising CPM rates.
The new policy on the follow section was put in place to block spammers. It is also not a secret that by following a lot of accounts there is a chance that someone will follow back and possibly check out company's products and services. That can lead to less ad revenue for Twitter.
According to industrial analyst, the twitter ad term may take it a bit further probably on the 400 "page follow" threshold. With reasons that 400 page follow is too much for much for an individual to engage just in a day.
Twitter Ads Pricing
Whether you manage a large business brand or just a small enterprise, twitter CPM ads has been designed to benefit any type of business. As it is, twitter ads has the best minimum ad pricing. As a starter, we advise you to get familiar with bids, auctions, and billable actions.
Billable Action
How you will be billed depends on the kind of campaign plan you have chosen. Every campaign category has got a different payment option, and you are expected to pay only when the action is performed on your lunched ad. As in when users click on your ad or certain amount of impressions were served.
Auction
At this stage, the price of the ad is not fixed. Twitter ads are meant to run on a designed audition system were all interested advertisers are meant bid on an available ad space for a specific audience they wish to target. The amount you will be charged for your ad campaign depends on the following:
How interesting your ads are?
The population of your targeted audience.
How much your bids are worth.
How many advertisers are also targeting some audience? – The more demand, the higher the price.
Bids
An ad bid is the amount an advertiser (you) is willing to pay for a particular ad unit. The bid is then sent to the twitter ad auction section where it will compete with other fellow advertisers who target the same audience. After your ad has made through this stage it will now be run according to the importance of it. Therefore it should be made to understand that those advertisers who has a higher bidding prices has more chances of winning the auction.
Ad Score On Twitter Ad
The twitter ad score has to do with the grade given to those ads that target some niche and looking forward to be cleared after an extensive assignment. So, it is really important that you have a really competitive ad bid that will measure up with the rest of the competing ads.
Though the amount of bid made by the advertisers is a strong catalyst for qualify an ad, but advertisers should also note that bidding is not the only criteria for winning an ad space. The quality of the ad is equality important. Each ad an advertiser creates will be granted alongside with the bid before it would be published to run as an ad.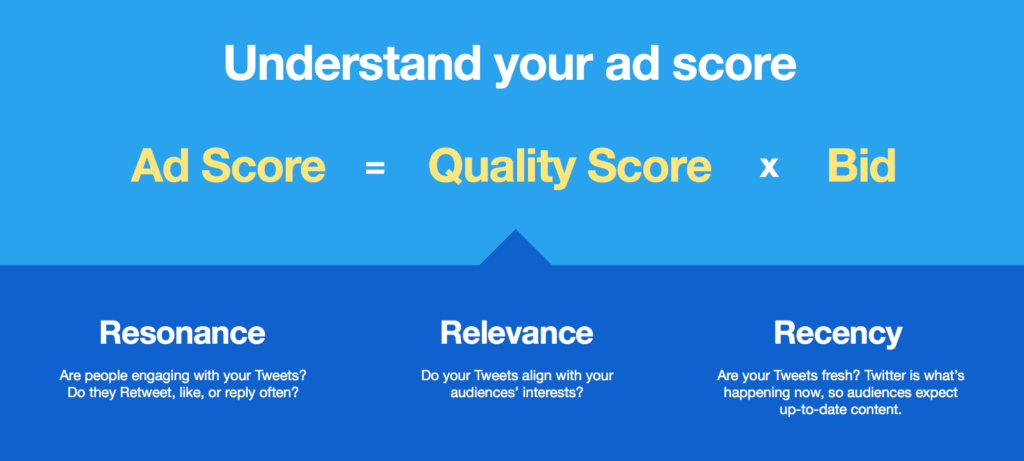 Another thing that is also used as a catalyst for judging qualified ads includes:
Recency. This has to do with promptness of your ad, whether it has anything to do with what is happening now, as in if the content contains current events.
Reverence. Your ads should answer the question "is it inline with what the Twitter audience wants?
Resonance. Are people interested, ready to engage with your ad? Do they like it so much that they are ready to click or retweet it?
In fact, to achieve a good overall ad Score, and win auctions that have the propensity to maximize the success of your campaign your ad must fit two rules. Have high/relevant bidding price and should be of good quality.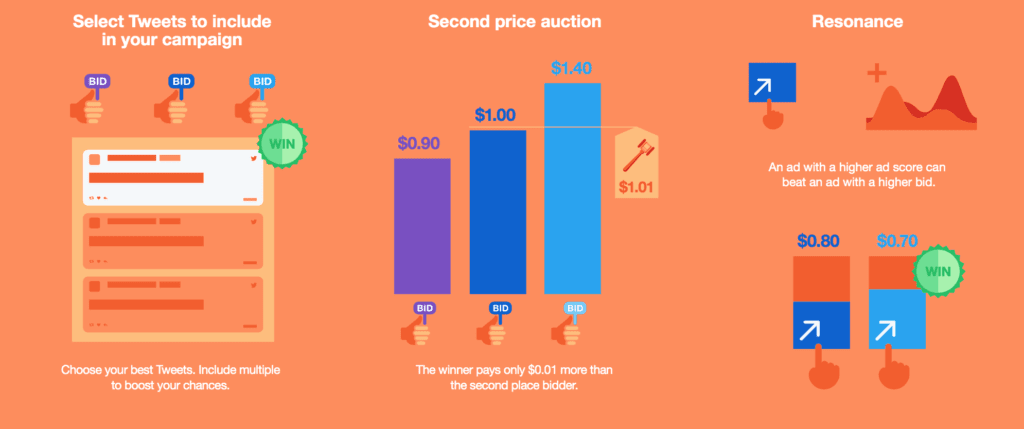 Ad Bidding On Twitter
There are three methods of bidding on twitter ads, they include:
Automatic Bid. This type of ad is designed to automatically optimize itself. Which if done right, increase your chances of maximizing the result using your stipulated budget. We highly recommend this type of bid for those who are new to Twitter ads. It automatically chooses the bid on your behalf using the already existing competition served within the ad auction as a measurement. It could be that the bid is actually a lot higher than you might expect, so be careful and set some maximum budget that you are ready to spend.
Target bid. This type of bid is designed mostly for conversion campaign objective. Target bid is auto – optimized to achieve a specific daily conversion cost that can beat the original target. In this type of bid, you are meant to pay the exact cost for every link click on a daily basis. Even if you happen to change the original bid afterwards, it will still have to average the cost you set.
Major Insight On How To Drive Results Using Twitter
Try Using Organic Achievement To Fuel Your Paid Strategy
We have noticed that social media advertising is solely different from other advertising channels. Advertising via social media should have to relate closely with trending social activities, a situation that has the power to build a solid relationship; a strategy that the Twitter Ad platform was built with.
To practicalize this, as an organization or a small business enterprise before you launch your CPM ad campaign it is good to test your engagement. Publish a few tweets. Know which one of them performs better in terms of engagement. After that check the tweets with the highest CTR, this will help you to with deciding which direction to focus on.
Reach The Right Audience
Twitter ads is among the best social media advertising platforms that has the right target audience. It is now left for you as an advertiser to come up with a white paper that contains strategy, budget, and specific target to drive your ad to the right to the right customers and clients.
How To Analyze And Understand Your Twitter Followers Before Launching Your Ad Campaign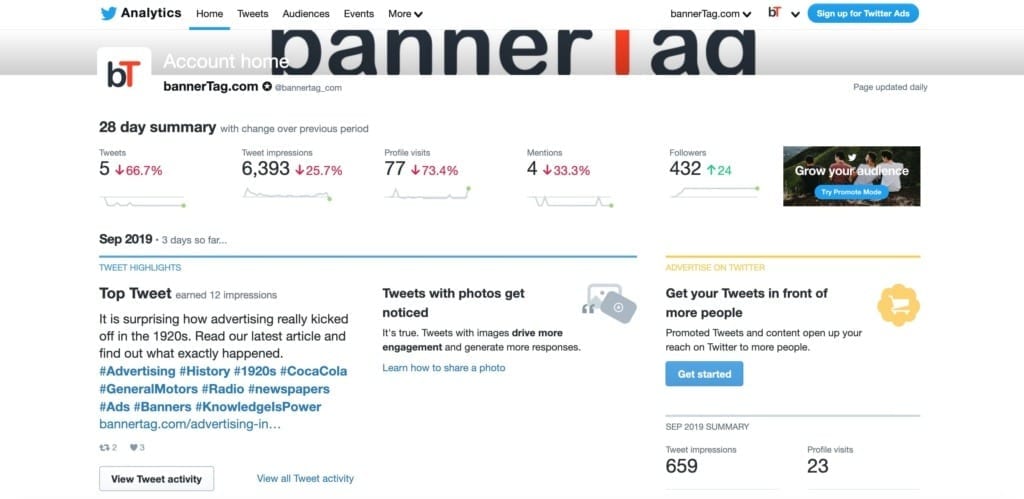 It is important that before you launch your CPM campaign you first study your audience to know what they really want. Here we have made some information available to help you analyze your audience tweets. Consider the following aspects:
Photo, Video, and Text. You can perform this test using the Twitter Analytic it helps you understand what your proposed audience writes. The pictures that post, and the video they upload. With the help of Twitter Analytic you can learn about your audience on the different sections of the twitter analytic tool:

Account Home. In the "Account Home "section is where the whole analytical data statistics are displayed. This is like the visual report card here every activity going in the platform. This is also the place where you find the best performing tweets so you can know the present influencers in your network.
The Tweet Activity Dashboard. This is where the merits for every simple tweet you have posted are displayed. This is where you understand the exact times account users have retweeted, sent likes or have replied to a tweet.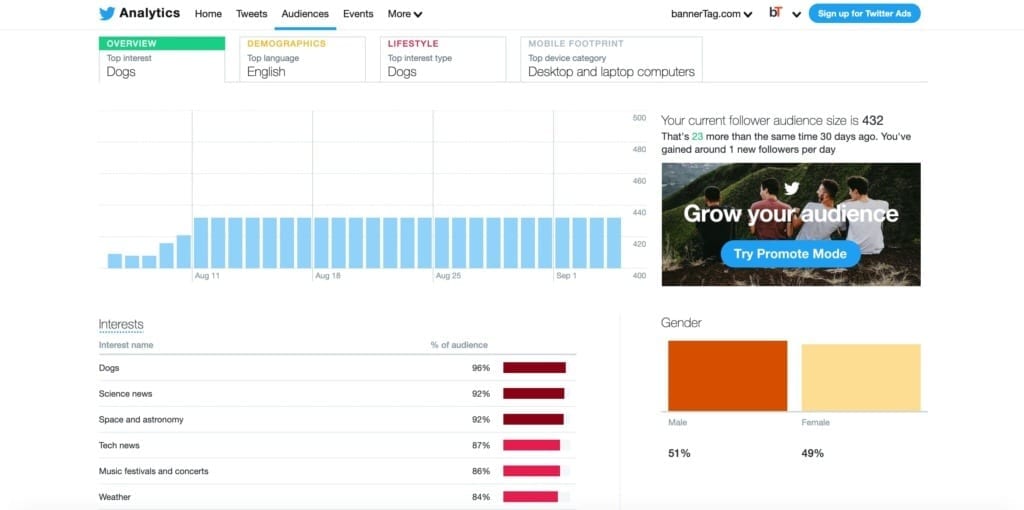 The Audience Insight Dashboard. This contains some really valuable information about those twitter users who follow you. You as an advertiser have the opportunity to track the growth of your followers and also learn more about their demographics and interact more.
Be Fast in Promoting your Tweets. Promoting your tweet as fast as possible allows your tweets to stay relevant and up to date. From the twitter analytics dashboard you can really understand the best and most relevant tweets on the platform.
Measure your Campaigns. You can actually measure Ad campaign from the twitter campaign dashboard the campaign dashboard is located on the twitter analytic. This section of the analytic tool have complete result you need to optimize your twitter campaigns.

Also on campaign dashboard you can comfortable click the Ad impressions to see how their CPM ad campaign is going. Also know how many people have seen it. You can also get to know how much your ad cost per result. With that you can be able to ascertain how much on average you are meant to pay for each actionable action users clicked the ad campaign you launched. Another way through which you can understand your audience activities after you must have promoted your tweets is through online conversation tracking which can still be done from the twitter analytical tool.
Paying For Bidding On Your Twitter Ads
Before you could launch launch an Ad campaign you must make sure you add an active bank account cards in the "payment method" section. Now below are ways in which you can finance your ads campaign:
Debit and Credit Cards
Independent advertisers can fund their ad campaign using both: either debit or credit type of cards. Twitter ads do accept payments in all countries where the website/app is available. Below are the acceptable payment methods by Twitter:
American Express
Mastercard
Diners Club
Visa
JCB
Discover
Twitter Analytics: Complimenting The Efforts Of Your CPM Ad Campaign
It is not enough to just choose the best ad bidding, and launch the best ad campaign. It is important you also monitor the ad engagements, see where your ads are taking you to. Know where to stop, pause, or continue ads. So this is more reason why you need to apply the services of Twitter analytical tool.
We are going to lead you through the fundamental basics of the twitter analytic tool which will in turn help you enhance your ad campaign progress. Below we have listed two ways you can use the twitter analytical report to increase your retweets, boost relies, and increase other twitter engagement
Make Sure Your Audience Can Easily Relate With Your Contents
It is necessary that you tweet about contents that audience can easily relate to, something that can easily drag their attention. How do you get to develop such content/tweets?
That's where the twitter analytics comes in, this tool gives you that opportunity to actually know what your audience are tweeting about things. Click on the audience tab located at the top of the page, automatically a tracking chart representing all the info about your followers comes up including their demography. There are actually five tabs that contains different info about your audience which is represented with UX friendly graphics. On this platform their categories includes lifestyle, tabs, popular ranked topics etc. Make most of them.
Measure Your Tweets With The Location Of Your Audience
The twitter analytic can actually help you increase your clicks, retweets, and comments. Before you launch a CPM ads, as a company it is important that you ascertain the time zone of your proposed audience. Know when the visits from your target countries are at their peak.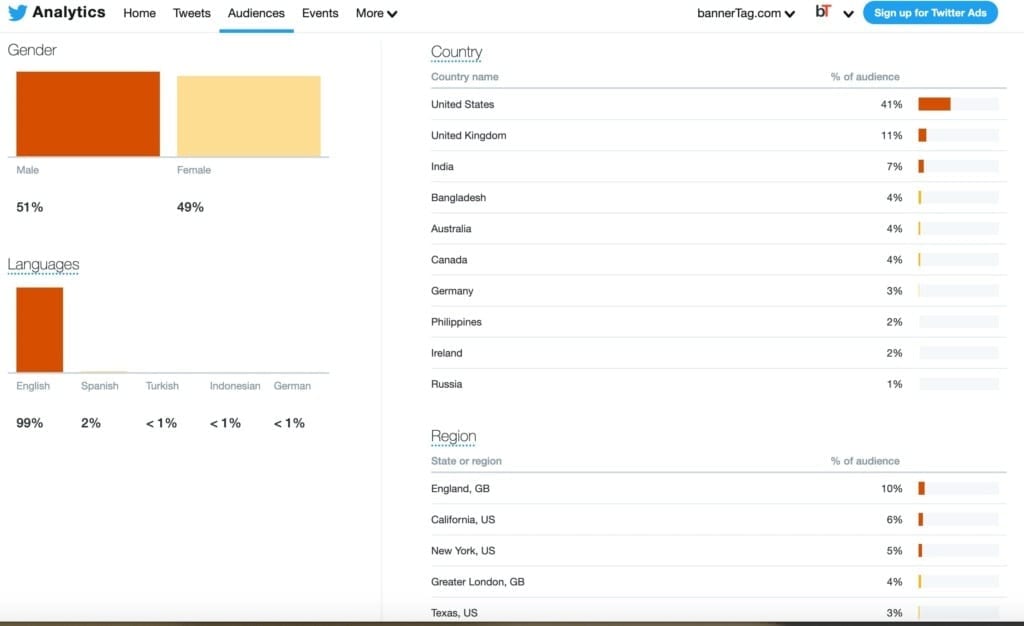 To find the best time to tweet open your twitter analysis tool, click on "Demographic" tab located in the audience section of the Twitter Analytic. There you will be able to view the gender, location net worth, and many more info that are made available there.
There are though other ways which you can still compliment you are the activities of CPM ad campaign in terms of monitoring its performance. But may be in our next write up we, we might want to provide you with those tools that facilitate a smoother and most successful CPM campaign. If there is anything specific you would like to understand or know, leave a comment and we will do our best to provide you with the most relevant information.