The world of internet advertising is fast-changing, a practical example being the advent of native ad which has completely taken over the online Ad space. Thanks to the indigenous advert display it presents to the online audience.
Apart from the urge of finding more innovative ways of displaying ads online. What motivated the introduction of a native ad is mostly the inconvenience the old banner system of online advertising presents to the audience. But before we go into detail, let's first demystify the term "Native Ads" – Native Advertising can be said to be the process of integrating a familiar ad that has the same match with the host site where it is being displayed.
How Native Ads Work In Real Life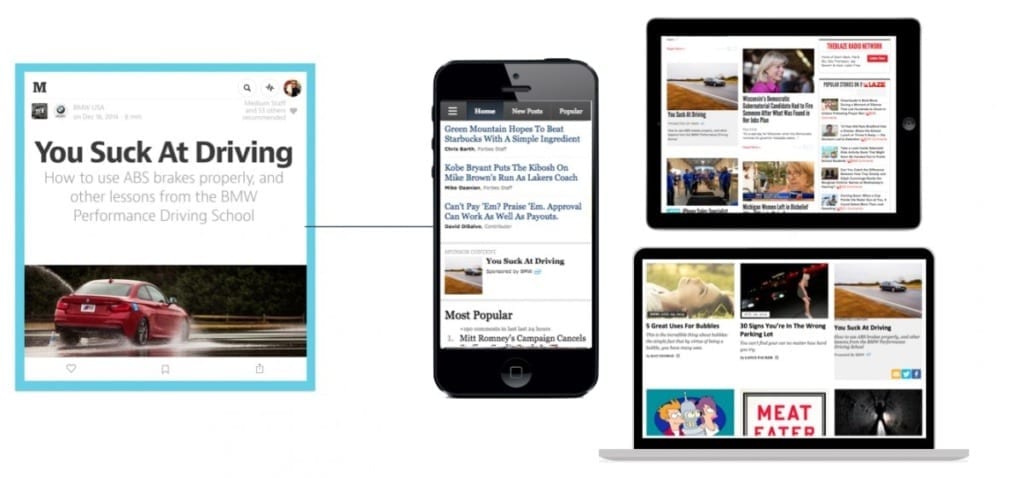 To understand this clearly, imagine that you are browsing through a fashion website, at the advert section of the site you are meant to see ads like the fashion section of a certain e-commerce platform of fashion-related contents; same goes for every other niche.
But unlike the usual ads that look like banner display ads, native ads don't necessarily look like an ad as we know it. Rather it looks more like it is part of written content (examples below). This characteristics even make it look more convenient. It will not in any way disrupt the point you are trying to get from the said content as it flows alongside the host contents.
Native ads can be seen in virtually every online platforms. Blogs, e-commerce platform, social media platform like Facebook, Pinterest, search engine e.t.c. On social networks, they appear as news feeds. While on search engine platforms they appear on the top of every search results. The most popular under the search engine category is the popular Google Ad word which allows companies to place ads on the first two lines of the search results.
Why Online Marketers Are Getting Fond Of Native Ads
It Works
Statistically, native ads attract 53% more viewership than the normal display ads in both mobile and desktop versions of website. It's responsible for an 18% increase in purchase strength. This is also same as the visual section of the ad, so with this alone, marketers and advertisers have flooded the industry to leverage this opportunity.
It Is Less Boring
Imagine reading an interesting article and all of a sudden you come across some strange content that has no relation with the original content, now that is it: the presence of a native ads eradicates all form of boring ad displays. Should a native ad be in same content you are reading through, you will hardly notice it is an ad; it will so blend in with the content that the reader will even find it more interesting. To be specific native ads in this sense is said to be an "exposed brand covered in an editorial and pictorial content" to further engage the online audience.
They Are Accepted Deception
The point is, in as much as native ads are seen as a disguised advert, the audience knows very well that they are there. According to a research at Stanford University they found out that the presence of native ads fools nobody, every audience are very much aware that it is there and most of them purposely scroll to the section to see what new. That's how interesting a native ad can be.
It Captures Attention Faster
Though it is a rationale in online advertising that if the said ad doesn't capture the attention of the audience then it has lost its purpose completely. For marketing professionals, metrics (measurement) are paramount to ascertain the relevance of the launched ad campaign. So, professional marketers rally around the native ads because of its ability to record high viewership rate, engagement, and conversions more than any other type of ad display.
It Builds Relevance
The more you engaged with your customers using their term and their language, the more you will be able to explore more opportunities through the development of a more interactive relationship. So advertisers use the native ad to advertise a particular product which in turn enable them to improve the level at which their content can be shared.
It Empowers The Customer
A marketer that makes use of native ad, in his advertising campaign indirectly empowers his audience. For the majority of online audience especially those who usually make use of on an e-commerce platforms, they are not necessarily looking for a new product to buy, rather they are after getting solutions no matter how it comes; if it comes as a product says they are good with it, if it still comes as a negative ad display, it is still very fine with, all they are after is a solution to their needs.
So, responding to the much-needed solution the online audience seek for, those native ads displayed on those e-commerce platform presents them with the much needed solution they have always craved for through their ever-relevant ad contents.
With the help of native adverts, it is very much possible to present to the audience a branded content in such a way that appear to be less persuasive but very convenient. As an advertiser, doing so will not only increase customer followership but will prove to the audience that you also care about their need not just their money.
Top 8 Native Ads That Are Mostly Used By Advertisers
In-feed Ad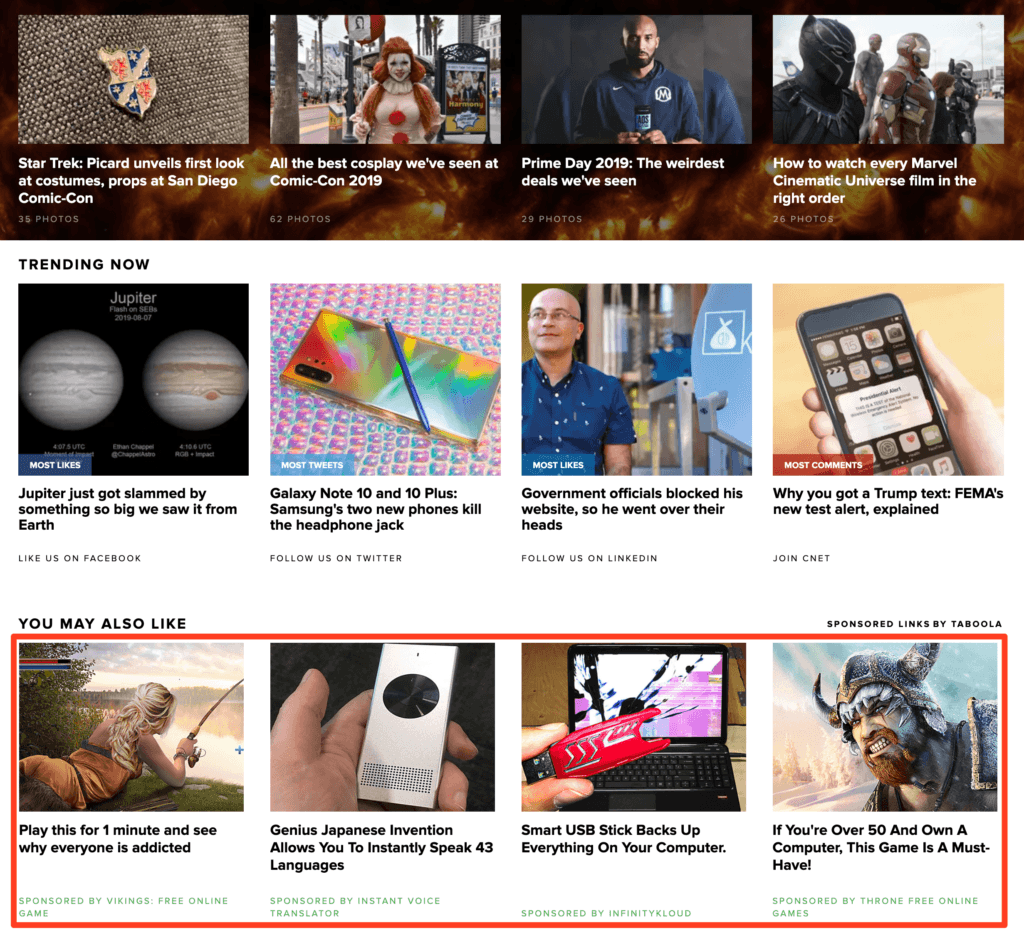 This type of ad is mostly situated in the content counter of every blog article, this type of native ad is peculiar with social media platforms though it has been seen in use on platforms like slate and Marshable.
The in-feed ads are mostly paid ads that comes as a content item, it is most of the times synchronized into the written content and take it blend into the main topic of the article content. On editorial websites, this type of ad takes a whole different look among sites, as in no two websites have same in-feed ad design, their display method differs.
One of the most important characteristics of this ad is that it easily blends into the topic of the original content of the blog without interrupting the information contained in the content. Again this type of ads has a way of sending readers directly to the host company's platform through an embed URL.
In –Feed Social Ads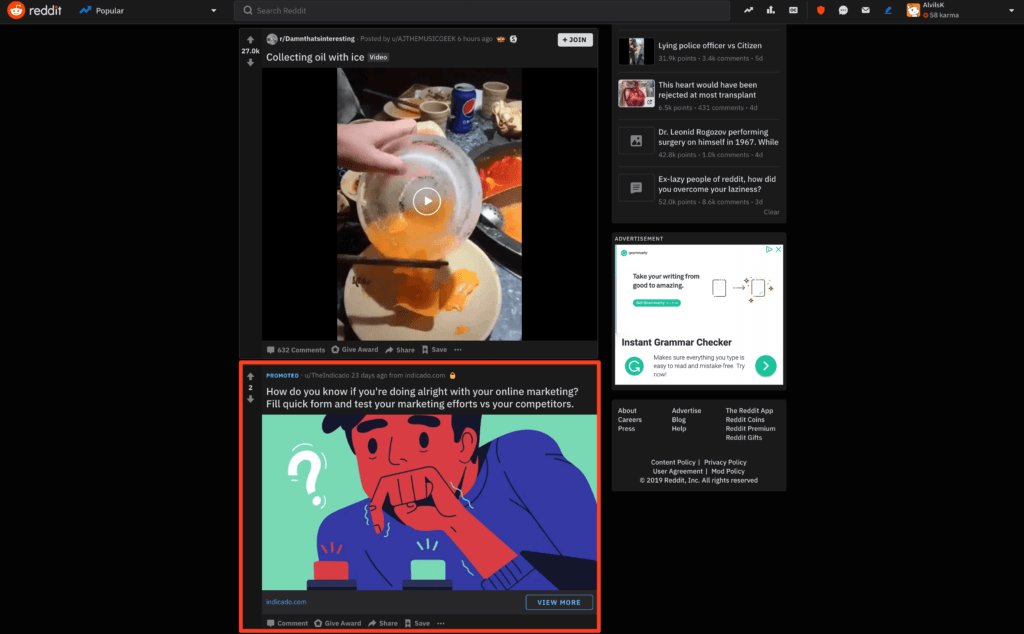 Before this ad was included among the list of native ads there was a debate whether it is qualified to be called a native ad, according to comments from people who are in support of it being called a native ad it has the ability to add value and also synchronize into any website original content which is even the major characteristics of a native ad.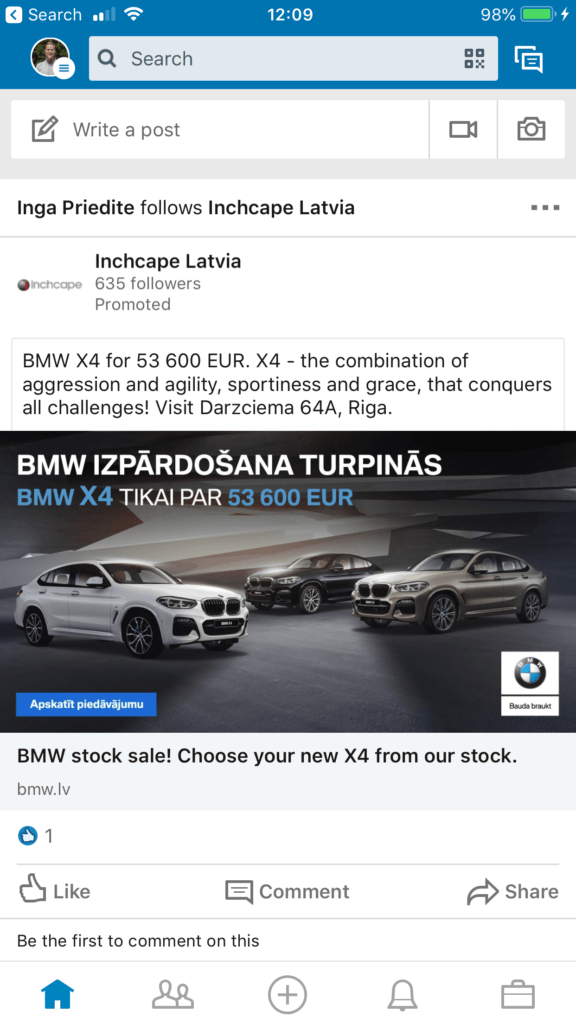 To the opposition, they claim the in-feed social ads are just like every other old conventional ad placements like the banner form of ad placement, but from our own a accessions we are strongly of the opinion that it is indeed worth calling a native ad. Though you still have every right to decide for yourself judging from its characteristics. The in-feed social ad just like the name stipulates is peculiar to social media platforms and can be seen on Facebook, tweeter, and LinkedIn respectively.
Paid Search Native Ad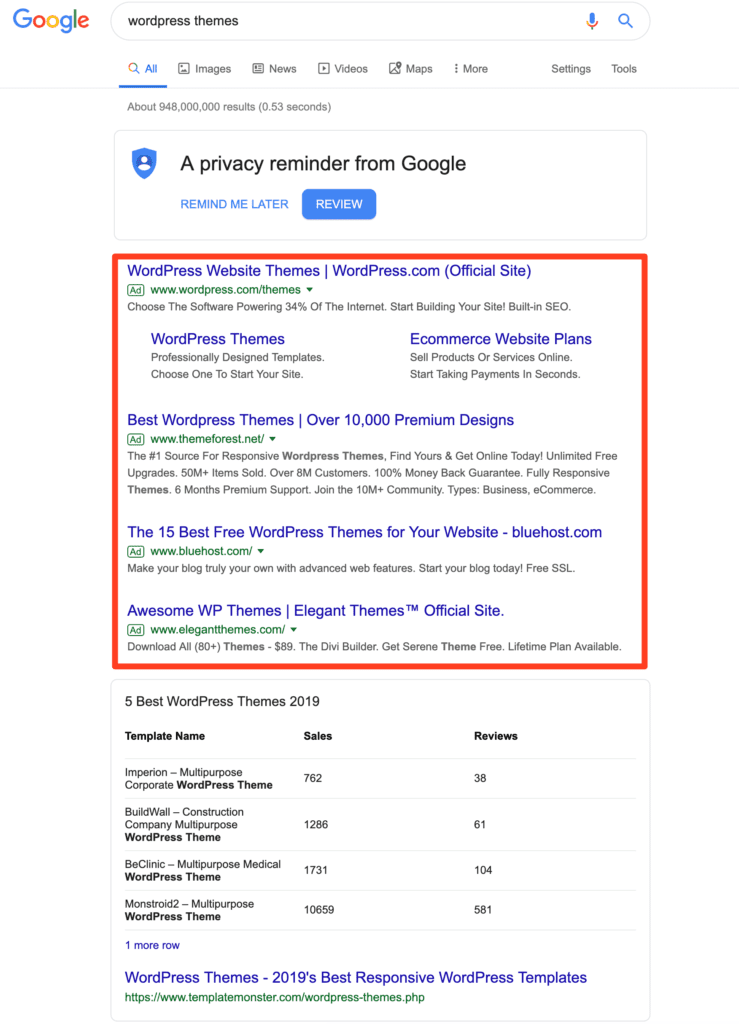 This is another type of ad that its authenticity of being path of the native ad family is disputed. They are often located at the top of every search engine result page (SERP), and they are placed there according to the terms of agreement between the advertiser and the Search Engine Company.
To further explain this, for those of you who use google often, after locking in your search words. The first two lines on the search result you will see this search result that synchronises with those words you entered in the search engine space. So because of this, many believed it is worthy to be welcomed into the native ad family, but on the contrary. Others in opposing which happens to be the governing body of online native ad – The Institute of Native Advertising still insist that it is not worth calling a native ad because of the fact that search engines is not a media platform. Once again, you have all the power in the world to be the judge to this. Some of the platforms that are peculiar to this type of ad are Bing, Google, e.t.c.
Recommended Content Native Ads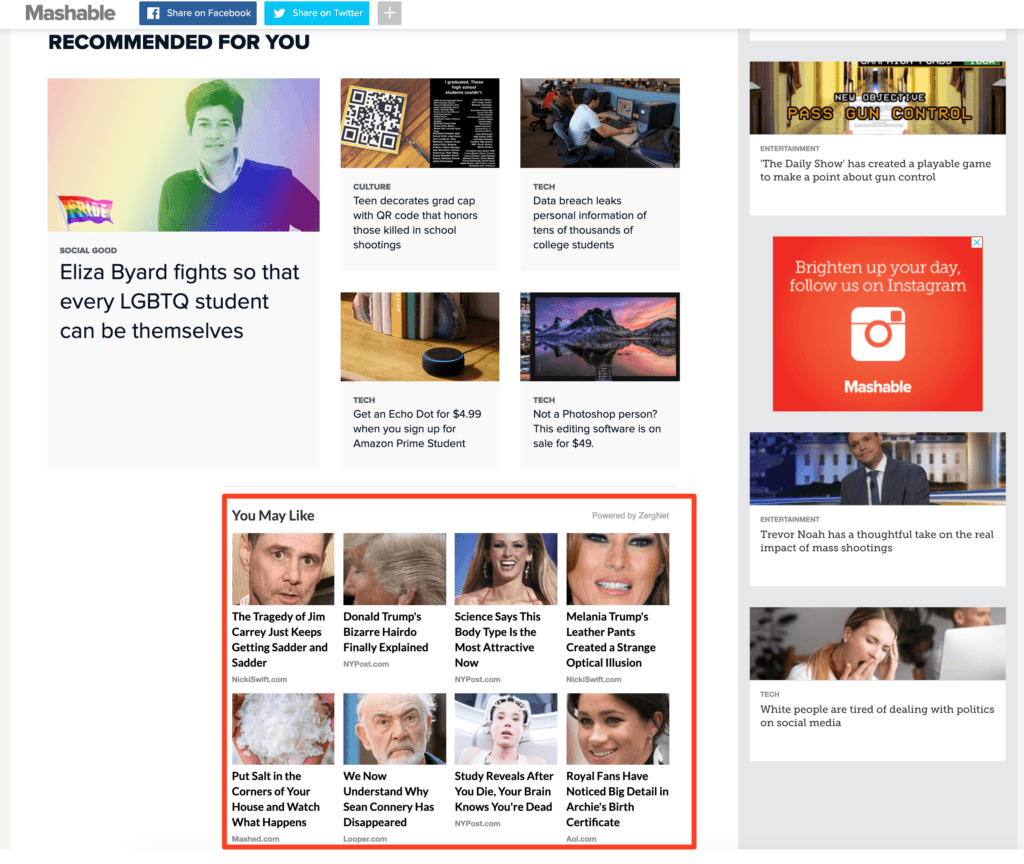 This type of ad mostly are used on site and blogs. They have a similar resemblance with the in-feed ad but presents itself in a slightly different way. To explain this further, have you come across a blog or an editorial where at the end of the post you are presented with some array of contents. It can be in form of a similar content you just read on the web, normally it starts with phrase like "Recommended, Also see, or You may like…, e.t.c" .
Often times they are programmed to be dynamic and fits the reader's choice of article; it also blends in well with the initial host article. One of the example of this type of ad is being placed on platforms like fastcompany.com.
Promote Listings Ad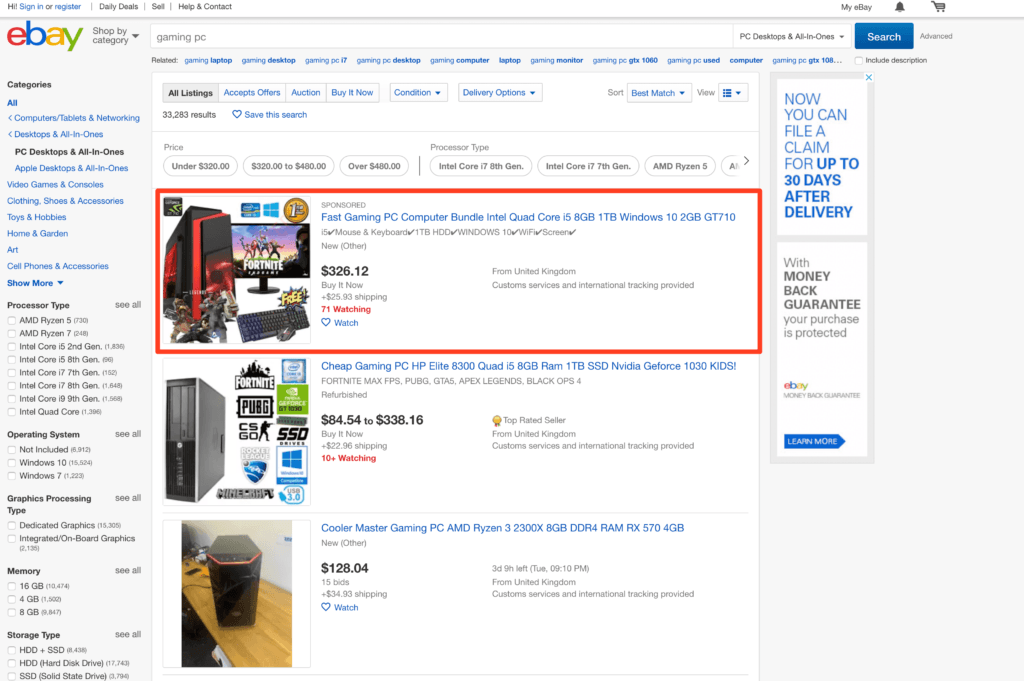 You can find this type of add on mostly e-commerce platforms. They present sellers the opportunity to expand their network. As well as the possibility of their products being found on platforms like Etsy and Amazon.
These ads are displayed just above or beneath every displayed product on that platform; it is mostly contextual in nature. This method is often seen to be associated with Google's AdWords where ads are displayed on the first two rows of the search result.
Custom Content Ad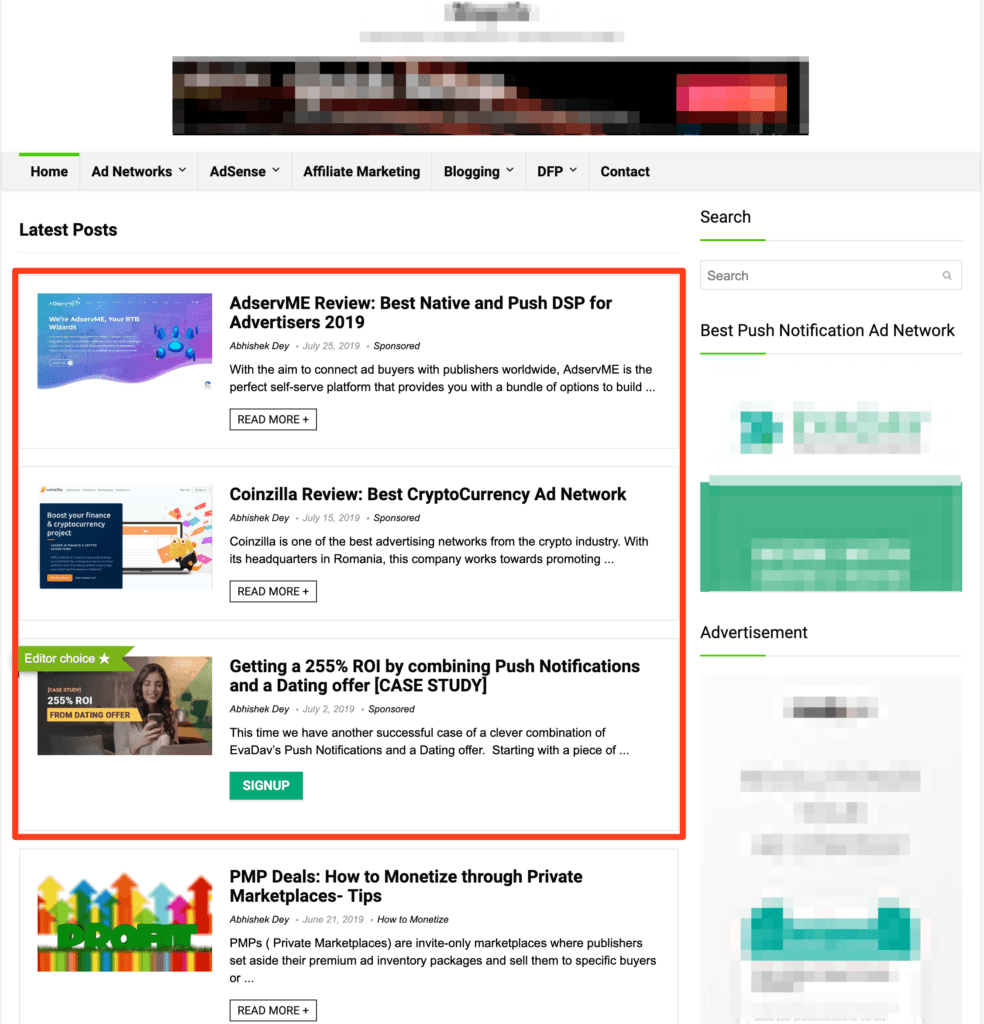 This is a product of an upgraded 3D reality technology. This is prominent in the In-App ads sections, some of the latest interesting native advertisement includes Snapchat filters from snapchat, e.t.c.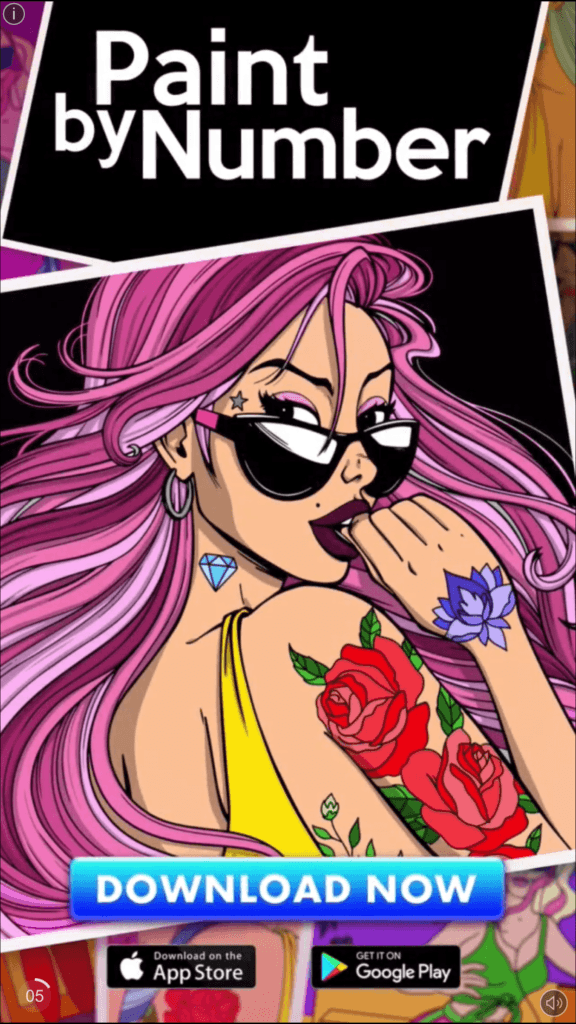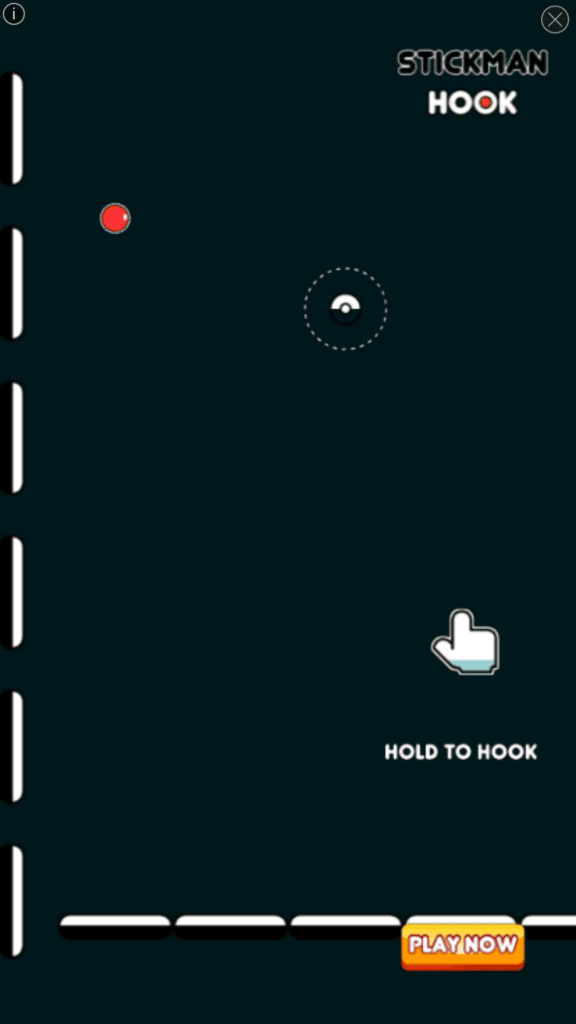 This comes mostly in form of animation or photo shopped pictures which is given so much 3D touch. It blends into similar content that it represents. A typical example of this type of ad is the In App purchase you find mostly on app stores, in-game purchase e.t.c. Not only that, this can include blog articles that are custom made to make visitors believe in the product. This can be done for example by posting "reviews".
Branded Content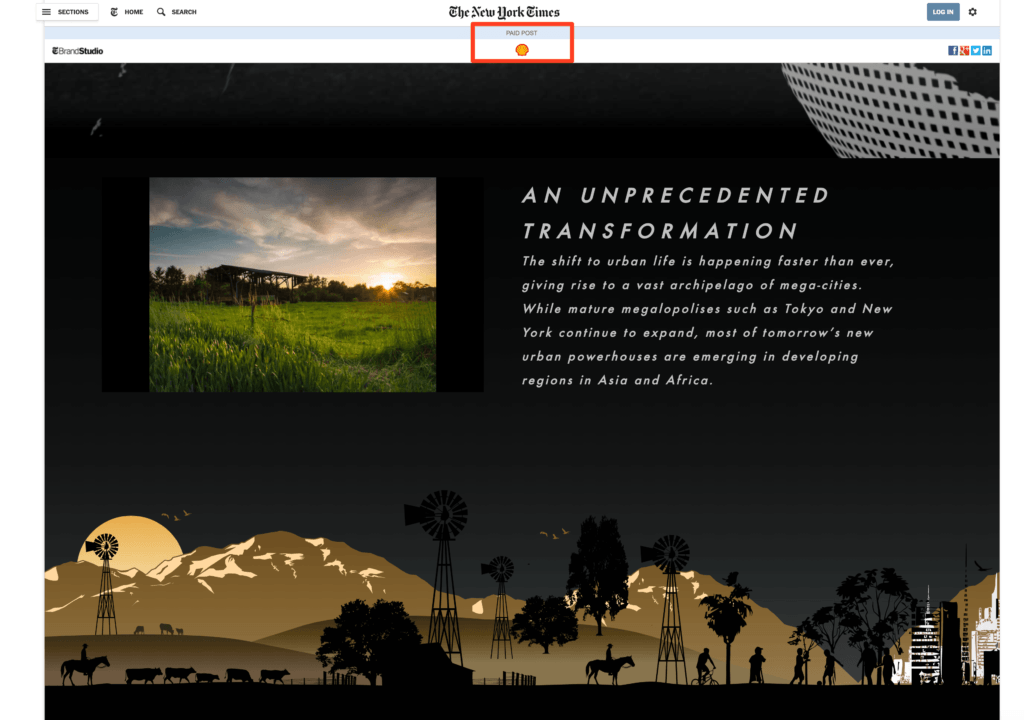 This is also called sponsored content, but be careful not to confuse this type of ad with the in-feed ads. Branded or sponsored ads are a typical form of native ad that is predominantly produced by polishers. These ads are paid by some company for the suppose of promoting a specific product. This is also considered as a typical example of native ad because of its ability to offer the audience the most noninvasive, and natural content experience. A typical example of a branded ad can be found on Who What Wear Blog.
Product Placement Ad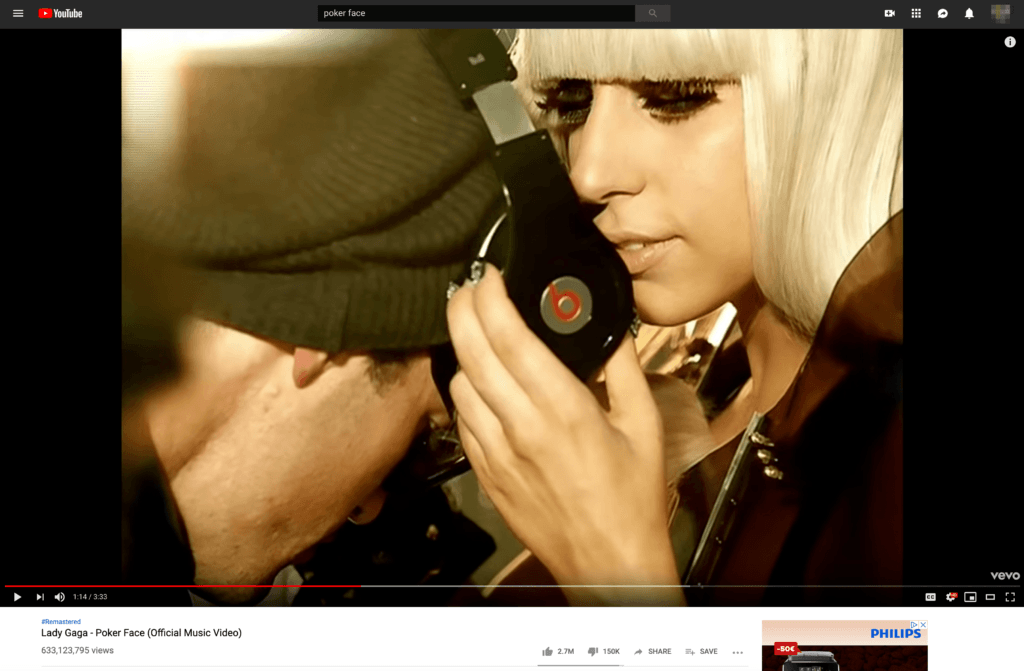 This type of ad can be a bit delicate. If done currently it can be the best type of native ad among its peers. This is a combination of native advertising and influencer marketing, it implies making use a popular figure to push your products into the market.
Take for example, if a producer paid a publisher some amount of money to help him write a promotional article. The publisher will have to source for an influencer, probably a popular figure. A Hollywood star (maybe), and the job will be to keep mentioning the name of the product while on an interview. This method is rarely seen because of its expensive nature, but from a professional angle, it is so very effective.
Advantage And Disadvantages Of Native Ads
No matter how good a strategy is, there must be a not to the good part of it that some faction of people recants, and the native ad did not escape such scenario. Below are some pros and cons of native ad:
Pros
They Can Be Highly Concentrated
With the native ads in place, it can be able to reach some particular set of people unlike the usual banner type of ad. Because it is concentrated, it delivers the said ad right to right audience which supposes to be the right aboard for the right population of the audience,
Gain More Attention
Native ads circumvent the conventional banner ad method due to its ability to gather more audience faster than the banner and display ads. Due to the ad is designed with the latest Ad innovation, its designs are seen to be much more attractive than the old display ad.
Native Ads Are Very Effective
If you have been observant enough you will notice that native ads exceed the display ad in terms of click-through rates (CTR) hence having an edge over it. Statically, there are 8.8x better than display ads in terms of CTR.
Unobtrusive
This is one unique thing about native ads. It is never in any way disrupt the attention of the readers, instead they shade more light on that particular topic. In fact a good native ad is designed to be part of the web content. Most of the times they summarise the whole article in few sentences. While convincing you to go for a particular product.
Cons
It is Anti SEO
These as does not in anywhere benefit the SEO section of the web platform, infact they are like a stand alone web product.
Can be Deceptive
With the way the native ad was designed, online audience sometimes feel like they have been deceived into clicking the ad, especially when they do not like the brand of product that was recommended thereby having a feeling of regret afterwards.
Not Affordable
Native ads as good as it make sound is not affordable, maybe it because of the special programming pattern in which it was created, or the auto adjustable feature it has. Well, this differs because some company and individuals still find it very comfortable.
Best Tools for Native Advertising
You don't just integrate native ads in your platform, there is some tool that is created to help you do this. Below, we have carefully selected those best tool that will facilitate the integration of any type of native ad on your platform. Below they are stated thus:
This is considered an advanced web content discovery platform. It was designed to connect online readers to contents they might be interested in. In the same time they never had the realisation that it does exist.
Taboola's main job is to recommend contents to readers, display native ads, and audience acquisition. Thereby allowing publishers and advertisers to monetize their web contents as well as reach out to a new audience. Some of the notable web sites you can find Taboola native ad contents are: NBC, fox, sports, USA today, time, e.t.c.
This company is predominately known as a native ad network company. It gives marketers a platform to target their audience. Through what can be said to be a "personalized recommendation" on the platform of the world-leading publishers.
The company offer a personalized ad deliberated programmed to suit the ad result. Which automatically targets response for each of every user, you can see done in real-time. Some of the prominent sites you can see the ads by outbrain are: CNN, the Washington Post, Politico, Vox, ABC, and time.
This is another predominant native ad network that offers native ad services to platforms. One of the unique feature of this company is its ability to design an ad that completely matches the host blogs web content.
According to the company, their ads provide the best meaningful customer online experience. Their publishing partners include The Associated Press, Barstool, Sports, IBG, COS.
This company is a native ad company who are concentrated in ad exchange. Providing publishers the opportunity to manage their native advertising strategy.
This company according to some reviews is a solution to an average advertiser. It some reviews is a solution to an average advertiser, and it also helps marketers in executing successful native ad placement.
Interesting Facts About Native Advertising
Internet users are bored of the traditional method of advertising which sometimes contradicts the original content, so because of this, the introduction of native ads made the internet audience have a sign of relief because of the after that it delivers the authenticity they crave for. Below, we have listed some well-researched fact-finding about native ads from the most reputable data analytical companies, those facts are stated below:
According to content marketing institute 70% of internet users will prefer to learning about their proposed products. Done through a well-written content that relates to that product rather than from the traditional ads.
eMarketer has confirmed that in 2017 and 2018 native ads rose to become the fastest-growing ad section. With an average increase of 35% within these periods.
Sharethrough confirmed that native form of advertising 53% views than the conventional display ads.
Forbes had made a revelation that native ads increase customer purchase intentions by 18%.
The average spending on native ads is expected to increase to $41.1 billion in 2019. It accounts for 61 percent of all the digital display ads spending in the united states.
Lastly, the native video ads account for percent of spending on video ads.
Summary
Finally, a native ad is taking over the online advertising sphere. Though in a slow pace but it will take over someday. Today ad companies like Google Adsense has leveraged the native ad space. Other ad companies are following suit, but all same, all are in a bid to make the online ad space a better one. Native ads can also be easily implemented with WordPress themes and combined with both mobile and desktop banner ads.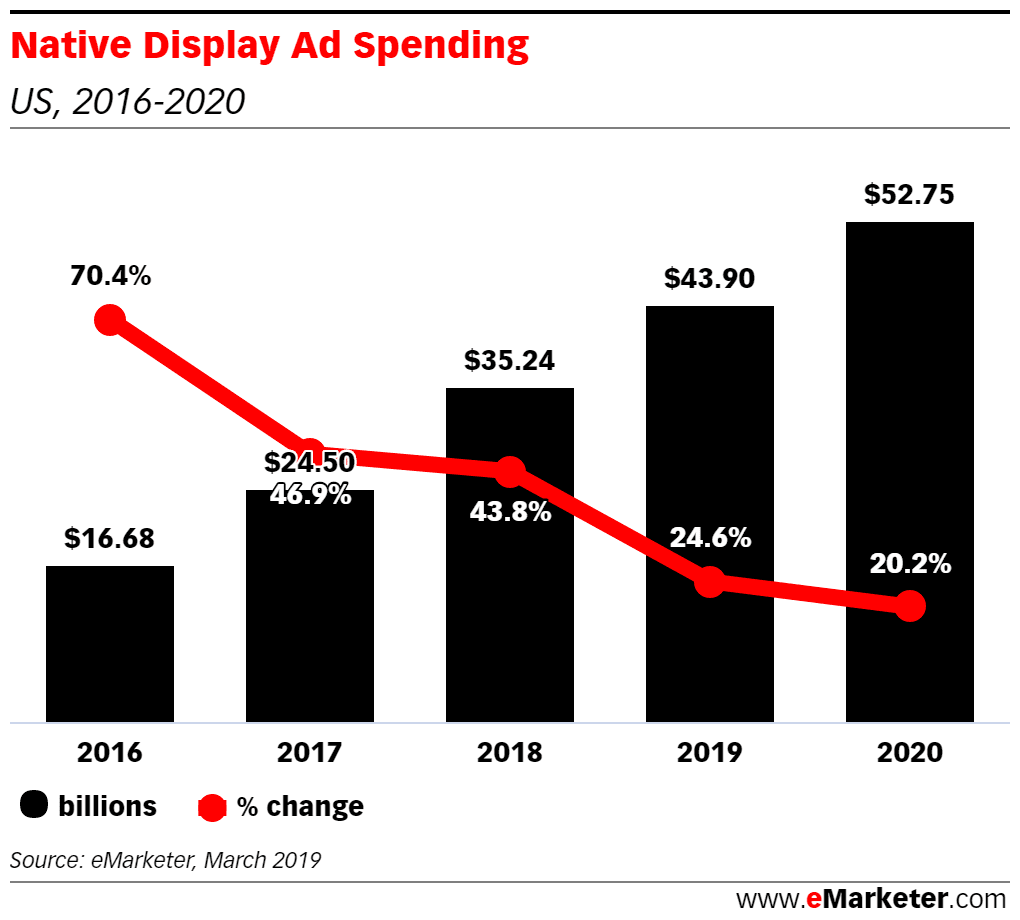 Native display ad spending is slowing down, but the increase is still 24.6% more than last year. It is predicted to grow by 20.02% next year. If you are not using such advertising method yet, we warmly suggest you do so. Therefore earning some extra revenue.