If you have placed advertisement banners or video ads on your website, you need to be sure that you add ads.txt file to your root directory. It is now an industry standard and everyone should be aware of it and its importance. It is very simple to implement and by doing so it will increase your revenue.
What is the Ads.txt Project?
The main goal is very simple: increase transparency in the programmatic advertising ecosystem. Before, it was possible for scammers to earn revenue by "using" high quality domains, while placing the actual ads on a low quality website. This meant that advertisers were paying high eCPM/CPC for what they thought is expensive inventory and worth the buck. For example claiming that they have placed ads on forbes.com, while it was actually a website with bought traffic from low income countries.
As publishers (website/blog owners) adopt ads.txt, the buyers (Ad Exchanges/DSP's/SSP's) are able to identify the Authorised Digital Sellers for brands, therefore having more confidence in the ad inventory and its authenticity. Once you have added the file, the advertisers will trust you more and potentially pay a higher price for an ad space. Keep in mind that some advertisers even go as far as not buying ads from websites/blogs that do not have the txt file in place.
How To Implement Ads.txt?
Whether you use Adsense or some sort of programmatic ad solution such as Header Bidding, the implementation process is the same. To get started you can just have a look at other websites and how they have done the implementation. For example forbes.com/ads.txt (Image 1.) and tehnologijas.com/ads.txt (Image 2.).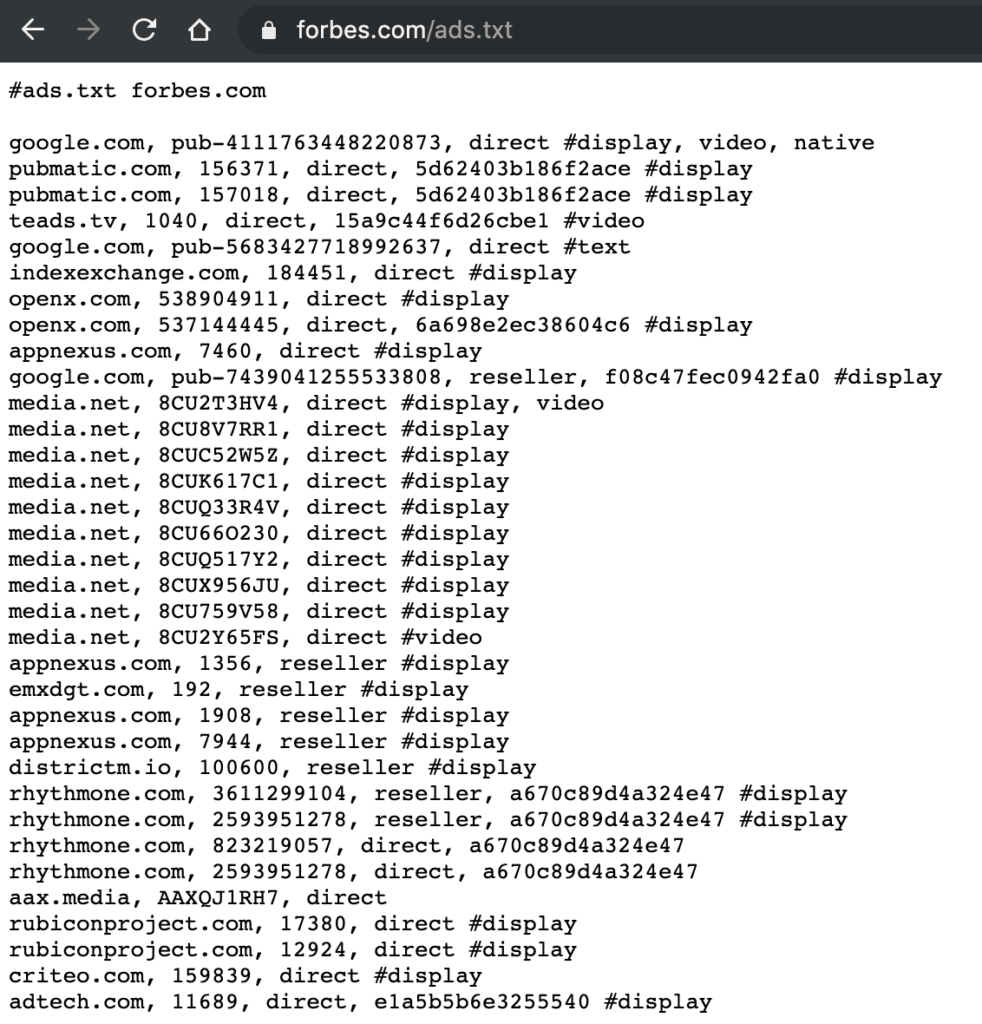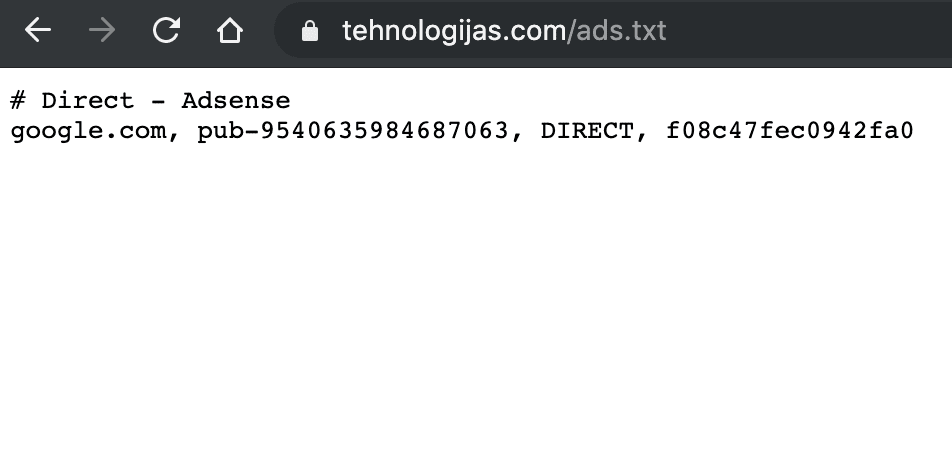 Forbes uses many Ad Exchanges/SSP'S/DSP's in their setup, this usually indicates that they are using some sort of programmatic solution such as Header Bidding or an outdated Waterfall product.
Whereby tehnologijas.com is only using Adsense as the only advertising product on the website. Therefore all they need is one line of code with their account ID (pub-9540635984687063). The rest is the same for all Adsense users.
Guide On To Implement Adsense ID
First you need to open a simple text file, for example Text Edit. Now go to your Adsense account and copy the Publisher ID (Image 3.).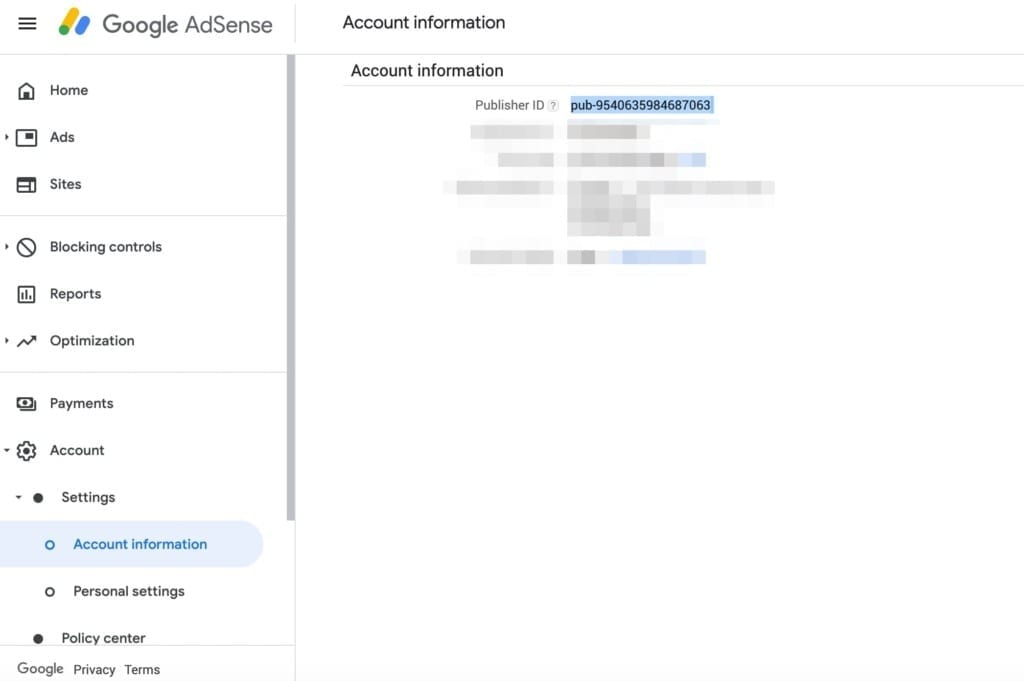 Now all you need is to place the Publisher ID in this template:
google.com, pub-"<id here>", DIRECT, f08c47fec0942fa0
google.com, pub-9540635984687063, DIRECT, f08c47fec0942fa0 – how it should look. You can also have a look at Adsense instructions here.

Now save the file (Image 4.) with such name: ads.txt. Thats it, you have a file that you can now implement on your website. If you are using WordPress or some other platform they have plugins in place where you can just paste the ID's there and it should work.
We suggest though to use FTP, if you have access. This will be a lot easier to manage and fast to implement. Image 5. shows exactly where the file needs to be placed in order to work properly. Once it is done go to your website yourwebsite.com/ads.txt and check if you see the ID's. Thats it!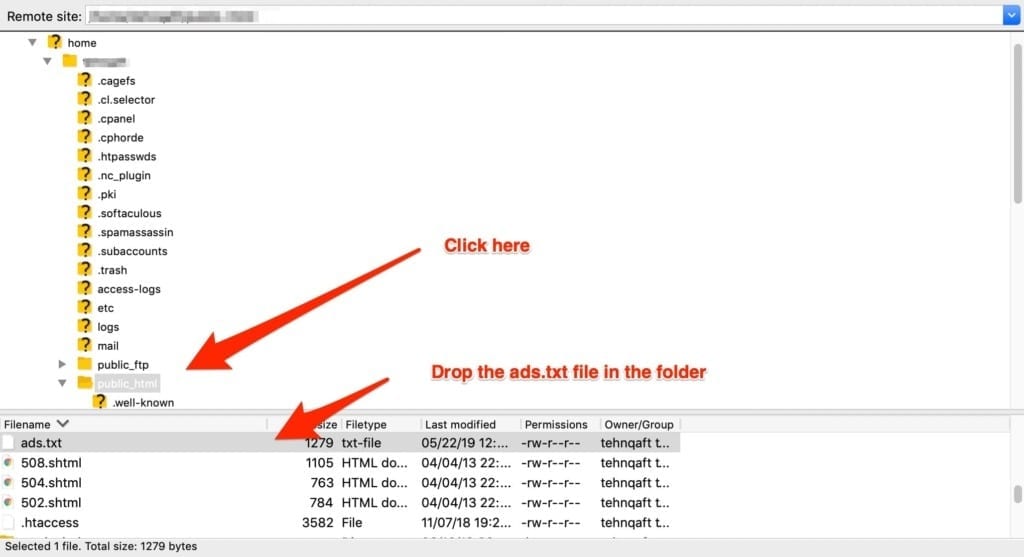 Implement Other Ad Exchange ID's
If you are using some other sophisticated solution for serving ads. It is best to ask each ad exchange for exact ID's that are required to be added. Often it is not just one ID per one exchange. It can be multiple lines as they use some hybrid solution themselves. When you have all of the ID's ready in an ads.txt file, place them the same way as we showed in the instructions for Adsense implementation.
How Does it Work?
Google writes that: "By default, automatically generated rows may include a value of 'DIRECT' in field #3. Indicating that there's a direct relationship with the seller account. If you don't own and operate the domain, update this value to 'RESELLER'.". So if you own the account that you are placing the ID, you should include "Direct", otherwise include "reseller" at the end of the line.
Generally the first row is seller name, the second is a unique account ID and the last line usually tells the relationship.
Google and other ad exchanges crawls the file every 24h, so you will have to wait a bit for the update to take place.